EU-Projekt N.O.A.H. | New Outstanding Alternative Heat storing material

As a result of the successfully completed ZIM cooperation project "MagnesiaHSM" funded by the Federal Ministry for Economic Affairs and Energy, we are launching our EU-Projekt N.O.A.H.

Prospective cooperation partners only need to fill out a Letter of Intent in which they confirm their interest in EcoMagHSM. If you send us the "Letter of Intent" (available here) by e-mail, we can provide you with the recipe and a free license for the entire duration of the EU project (HORIZON 2020 PH1) immediately after the start of the project - according to the EU directives.

Research & Development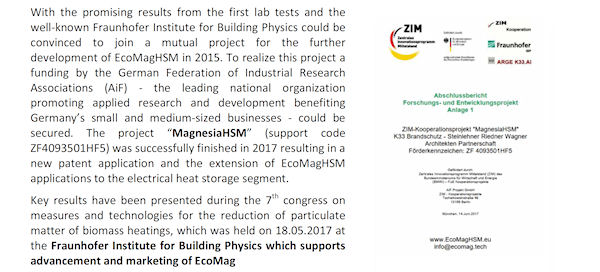 Fraunhofer Institute for Building Physics accredited an excellent longterm stability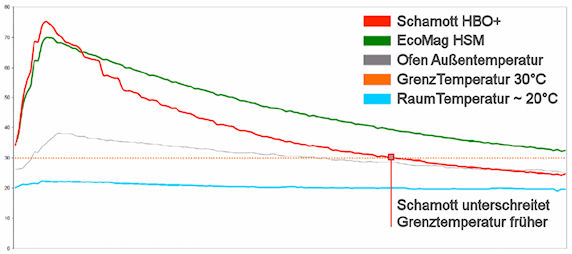 The direct comparison of the length of the cooling/unloading phase of EcoMagHSM and the original memory modules made of fireclay and soapstone, shows an 30% extended unloading phase with identical test parameters. The new ecological storage material has further advantages over chamotte soapstone and other traditionally used materials.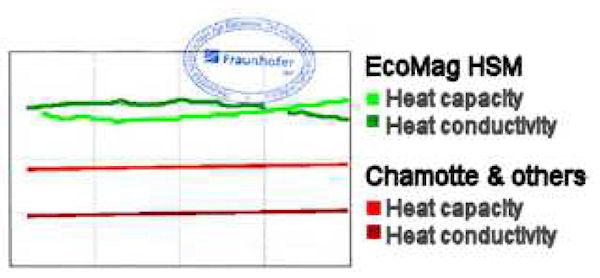 Unlike chamotte, EcoMagHSM has a balanced ratio of heat capacity and matching thermal conductivity. That's why EcoMagHSM also absorbs heat more efficiently as all of the IBP-tested fireclay blends.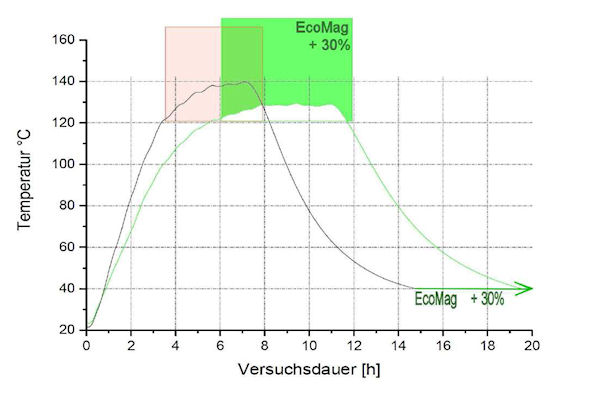 Comparison of cooling periods : EcoMagHSM (green) heats up +5h or +30% longer
In addition to the heat capacity, the thermal conductivity plays an important role in the application of EcoMagHSM as a storage material. The higher the thermal conductivity, the faster the heat can be stored and recalled.
The 30% higher thermal conductivity allows fast filling of the storage. Along with the 30% higher heat capacity the efficient heat transfer into the material keeps its surface temperature low. The lower surface temperature accelerates heat absorption and thus also leads to the higher EcoMagHSM core temperature. In the cooling phase, the shallower temperature gradient prevents an early (see heating phase HBO +) or too fast heat dissipation. Therefore, EcoMagHSM falls later below the limit temperature of 30°C.
EcoMagHSM is 30-50% more efficient. This means it also saves the same amount of wood, brown coal and the resulting particulate matter and CO2. And it can also be used built-in components in the combustion chamber of stoves for the further reduction of particulate matter. With its excellent heat storage and release properties, EcoMagHSM absorbes and stores about 30-50% more energy and is at the same 30-50% cheaper than all competitive solutions - see Fraunhofer Institute for Building Physics IBP - Download Section.

The additional potential of EcoMagHSM will contribute to a reduction of the EU's greenhouse gas emissions, by application of EcoMagHSM significant emission reductions can be achieved, even compared with state-of-the-art stoves (60-70% for CO, 85% for OGC and 70-80% regarding PM). According to the German Federal Environment Agency wood stoves are responsible for up to 25% of the particulate matter pollutions. Therefore, Europe faces 100,000 of 400,000 premature deaths due to particulate matter pollution caused by wood stoves every year - see also: Wood Stove 2020.
Old Stoves
Modern Stoves
are based on outdated polluting and carcinogenic technologies, including chromium-VI-oxides (e.g. feolite) and asbestos-like chrysotile fibers (soapstone).

See for example: DGUV and EU
are sustainable state-of-the-art stoves equipped with a cost-effective, wood-saving, natural, healthy and environmentally friendly Heat Storage Material like EcoMagHSM without noxious or harmful substances and a consistently positive eco-balance. The main component of EcoMagHSM is magnesium hydroxide, which is also used in many foods and medicines.
Wood-burning stoves are also equipped with chamotte (fireclay) which has a poor life cycle assessment (twice sintering/burning = high CO2 footprint) and is very inefficient when used as heat storage (low heat capacity and thermal conductivity, both at least 30% less than EcoMagHSM).
When EcoMagHSM is used in wood stoves it reduces their emissions, increases their thermal efficiency and expands their field of application from solely single room heating to central heating (e.g. wood stoves with heat exchangers and connected radiant heaters).
| | |
| --- | --- |
| | EcoMag's main raw material 'Magnesium Hydroxide' is available throughout the EU and can also be won import-independent by extraction out of seawater in nearly unlimited quantity - see existing facilities in Ireland, Netherland, Norway,... |

An increase in the bulk density / mass of fireclay brought no advantages in all test series, because chamottes are generally too slow in heat absorption and inflexible (flow velocities). The weight advantage (up to 65% depending on the recipe) of EcoMagHSM even against extremely heavy chamottes is considerable, since EcoMagHSM, in contrast to soapstone / chamotte, has an ideal balance between heat capacity and suitable thermal conductivity.
| | |
| --- | --- |
| | |
| Heating to steady state | Comparison of cooling periods |
EcoMagHSM (green) heats the room +5h or +30% longer than Chamotte (red)
Specific heat capacity as a function of the sample temperature: Results of the mixtures and starting materials investigated and sample of chamotte (HBO +).
The results of the measurements also show that fireclay only absorbs heat in appreciable quantities above 100° C. EcoMagHSM stores much more efficiently at temperatures below.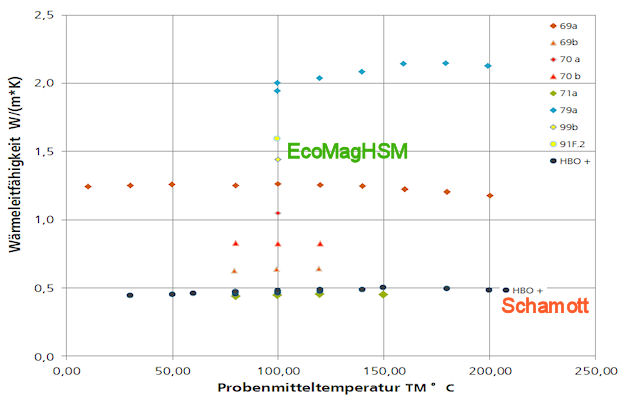 The thermal conductivities of the EcoMagHSM blends are between the value of the chamotte sample of 0.5 W / (m · K) and the EcoMagHSM peak of 2.1 W / (m · K). Accordingly, a very wide range of thermal conductivity can be set via different formulations. The amount of mixing water alone can be used to set w / c value, compressive strength, bulk density, porosity, thermal conductivity and specific heat capacity.

Increasing the flow rate from 0.5 m / s to 1 m / s has a negative effect on the Chamotte/Fireclay sample HBO + (left diagram). The integrated surface of the heating phase of the EcoMagHSM specimen HSM79A, in relation and under identical conditions, is 53% larger in this experiment. From this, it can be deduced that the EcoMagHSM storage material reacts much more flexibly with respect to the change in the flow velocity, which is to be evaluated as very positive especially when used as a storage brick in the field of wood firing.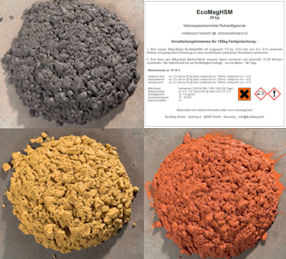 EcoMagHSM combines the advantages of the individual state of the art solutions while having none of their drawbacks and EcoMagHSM is about 30% cheaper to produce.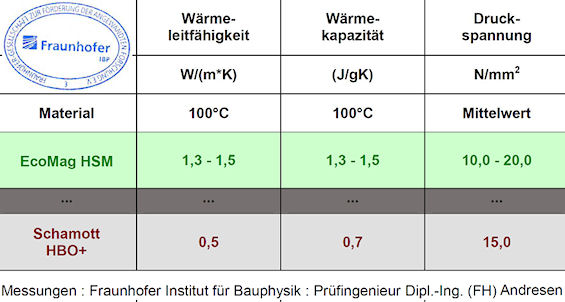 EcoMagHSM has a higher heat capacity with an adequate heat conductivity, thereby allowing an efficient absorption and storage of the heat at a lower price than all other comparable materials (ceramics). It can be made of natural, hazard-free raw materials without a high temperature process. It allows flexible forms and sizes and is usable for a wide range of applications. Due to these advantages, the material enables both use in heat-storing system modules and in the fireplace itself. EcoMagHSM storage bricks can also be used in the firebox/combustion chamber if the temperature range of 600°C - 900°C is not exceeded in the long term, e.g. as baffle plate with or without cyclones: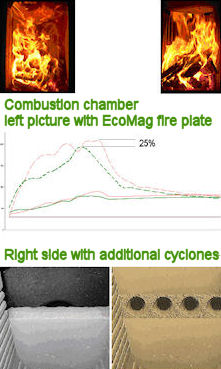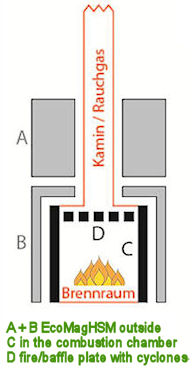 The combustion chamber of the new EcoMag combi stove - Demonstrator II - receives preheated combustion air through a slot in the back wall of the stove. The flue gases are deflected by an EcoMagHSM baffle plate, which promotes the combustion process considerably, and then pass the afterheating box before they reach the chimney. The convection air, heated by the burner and the afterheater, is fed through the Hypocausts system from EcoMagHSM storage blocks and heats it up quickly as well: